Bard on the Beach relies on an incredible team of staff, Company members, and volunteers to help put on our Festival every summer. We are so excited to continue our People of Bard series, which will spotlight just some of the wonderful individuals who make our work possible. If you missed our last spotlight on Emma Lancaster, our Director of Marketing and Communications, you can read it here.
This week, we're excited to be highlighting Bard's Education Coordinator, Melanie Hiepler!
Mel first joined Bard on the Beach as a Canada Summer Jobs student in 2018, assisting with Summer Camps on site at Sen̓áḵw/Vanier Park. She returned to Bard in 2019 in a full-time role as Education Coordinator, and we've been lucky enough to have her with us ever since!
As the Education Coordinator, Mel manages Bard Education's school programs, including Bard in the Classroom workshops, Student Group bookings, and Bard in the Virtual Classroom. We're so grateful to Mel for everything she does to support our education programming, and we're thrilled to be speaking with her today.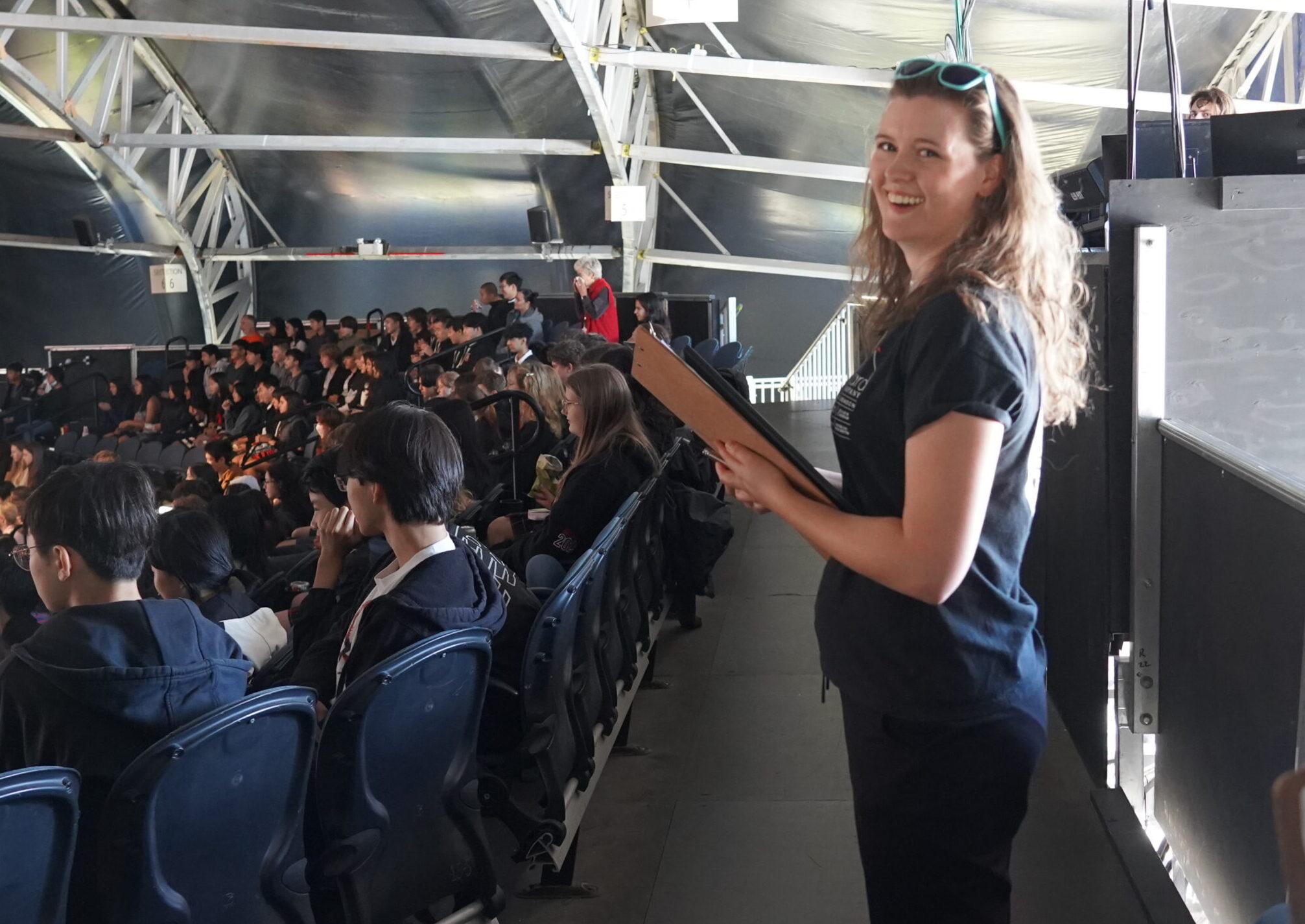 Photo of Melanie Hiepler during the pre-show of a Bard Student Matinee.
What do you enjoy the most about your role?
My favourite part about this role is the connections that I get to make with our participants and the teachers who I work with. We take a rather non-traditional approach to teaching Shakespeare which is guided by participants and structured around helping them find their own resonance within the language. We're not really interested in telling people what Shakespeare means – we're interested in helping them figure that out for themselves. At the risk of saying something contentious, what we're up to isn't really about Shakespeare. It's about inviting young people to use Shakespeare as a tool for cracking open questions about themselves and their world, and about helping them figure out what it is about this language that lights them up.
What were you looking forward to the most this Season?
Hands down, Student Matinees. I love Student Matinees. When you have 750 young people in a room, ready to see a play, you can feel the energy. That room is buzzing. I will never forget one of the Student Matinees of As You Like It that we did back in June of this year. The kids were just about screaming themselves hoarse at the pre-show wrestling. And that was before Act 1 even started! It was so great – absolutely delightful. A lot of the young people who come to these shows have never seen a play or been to a theatre before, so a lot of them aren't sure how to behave. We've started greeting groups outside the gates before they go into the Village, and one of the things that we tell them is to just be fully present. I like to tell kids that if you feel like laughing, laugh. If you want to cry, cry. If you want to gasp and go "Omigosh!", gasp and go "Omigosh!". Obviously, make it respectful, let's take care of each other in this shared space, but you have full permission to be present. It's all about fostering an environment of care and joy.
Do you have a favourite memory from past Seasons at Bard?
Bard Youth Fest isn't in my portfolio anymore, but it holds a special place in my heart. I was working with a Bard Youth Fest troupe a few years ago, and all of these participants were international students from a local school. We asked them about some of the bards from their home cultures, and then asked them if they would be interested in translating some of Shakespeare's lines into their native languages. They were so excited about it – we had a few speeches from Hamlet and King Lear that were done in English, Farsi, Swahili and Arabic. The ownership that these participants had over their texts was unlike anything I've ever seen. These particular participants had no previous theatre experience, and this was during the pandemic, so we were all working over Zoom, but even in that medium, the ownership and investment these young people had in what they were creating was unreal. It was so rewarding to be part of that process.
I've also participated in a few professional development events for K-12 teachers. It's always so exciting to connect with teachers. I love meeting the teachers who are skeptical or hesitant about Shakespeare – like, "Shakespeare? Why would I teach that? It's not on the curriculum anymore" – because our approach is very different from what a lot of folks might expect. For one thing, it's very couched in social emotional learning, which is one of the pillars of BC's curriculum at the moment. I love being able to hand teachers (free!) resources and say, "Hey, let us help you," and then watch them light up. When the teachers get excited about something, there's a good chance that their students are going to get excited about it as well.
When you aren't helping to put on a Festival, what do you like to do in the summer?
I'm partway through a Master of Music in Opera Performance at UBC, so when I'm not at Bard, I'm singing! Outside of work and school, you can usually catch me outdoors somewhere, probably on my bike. I garden – I grew some green beans this summer and I'm very proud of them. They were delicious. I also like to make rugs on a loom that I made myself. I make these rugs out of upcycled fabrics – old bedsheets, jeans, that sort of thing. I've always been really frustrated by how quickly my clothes wear out, so I just started keeping old bits of clothing and cutting them up and making them into rugs. One of my favourite things to do in the summer is to take my loom and a big backpack full of fabric, and to go down to the beach and spend an afternoon working on my rugs. I always get a range of interesting reactions: some people get excited, others are just confused!
Thanks so much for chatting with us, Mel! Be sure to stay tuned for more instalments of our People of Bard series in the weeks to come.