BMO Theatre Centre
A unique partnership between Bard on the Beach Shakespeare Festival and the Arts Club Theatre Company has come to fruition with the opening of Vancouver's newest cultural hub, the BMO Theatre Centre. The Centre, a custom-built facility at 162 West 1st Avenue, now houses the administrative offices of both companies. There is also a state-of-the-art theatre called the Goldcorp Stage, along with both Bard and the Arts Club's costume shops and costume collections, and four fully-equipped rehearsal and performance studios which are available for rent for portions of the year.
For the first time in its twenty-nine year history, Bard has a permanent year-round home for its administrative and production staff. This all-season space also allows Bard the opportunity to expand its education and training programs beyond its summer home at Vanier Park. Bard's 2018 winter-season offerings at the Centre include Young Shakespeareans Workshops for children ages 8-18 and a program for adults called Bard for Life.
The capital funding for the Centre was generously provided by the City of Vancouver, Heritage Canada, the Province of BC, BMO Financial Group, Goldcorp, Industrial Alliance Financial Group and ITC Construction Group, plus a group of generous individual donors (see below for full list).
Visit Bard Education for more information on the programs available at the centre.
Learn how to rent any of the Centre's production spaces.
Please contact rentals@bardonthebeach.org to rent Bard's costume collection.
Finding the BMO Theatre Centre
162 West 1st Avenue
Vancouver, BC V5Y 0H6
For bus and SkyTrain directions, please visit Translink's trip planning website.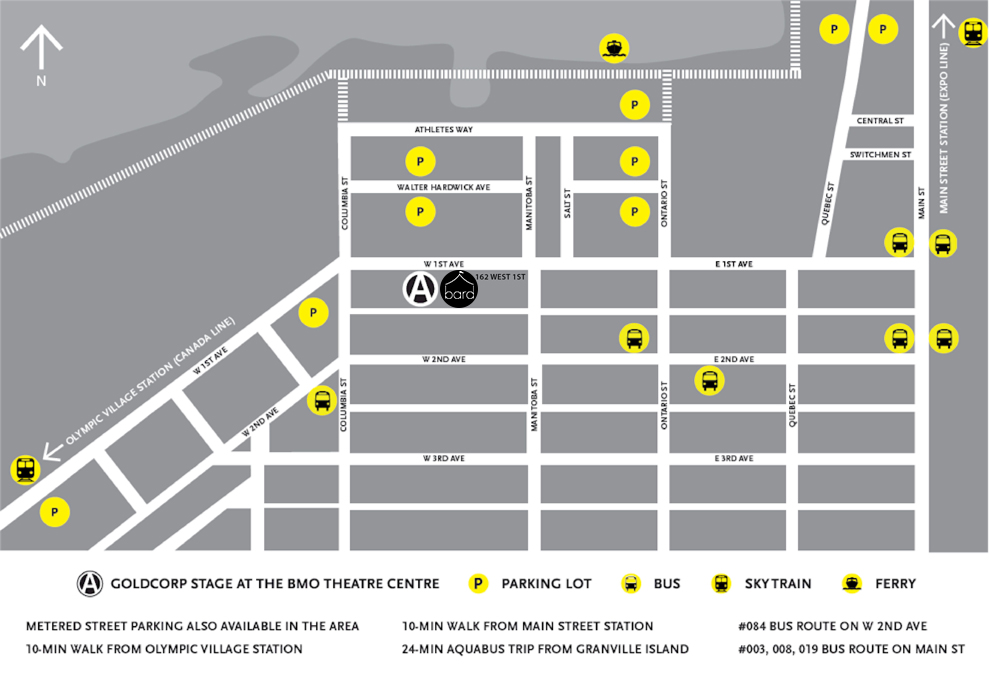 We gratefully acknowledge the support of our BMO Theatre Centre donors
GOVERNMENT

City of Vancouver
Department of Canadian Heritage
Province of British Columbia

MAJOR DONORS

Roberta Beiser, Barry Lando, Barbara Schloss & Juli Hall in memory of Esmond Lando
The Morris & Helen Belkin Family Foundation
Jamie & Margaret Corbett
The Christopher Foundation
Deloitte. Foundation Canada
Deux Mille Foundation
Count & Countess Enrico Dobrzensky
Glenn & Katherine Ives
The Knox Family
Timmie Marr
The Richardson Family
Don & Jane Shumka
Shawn Williamson
Charles & Dale Young

PRINCIPAL DONORS

BMO Financial Group
Goldcorp
Industrial Alliance Financial Group
ITC Construction Group
Grant D. Burnyeat in memory of Dora & Jack Burnyeat
Dr. Stanley & Kathryn Hamilton

SUPPORTING DONORS

Byron Aceman
Joanie Anderson
B2Gold Corp.
R. Paul Beckmann
Bell Alliance Lawyers & Notaries Public
Catherine & Stellan Boivie
Mary Clare & Jim Bovard
Val & Dick Bradshaw
Don & Donna Celle
Douglas & Alice Clarke
Errol & Oona Durbach
Craig & Shelley Ferris
Dale & Bruce Flexman
Christopher & Jennifer Gaze
Christopher & Anya Gimpel
George & Lee Grills
Judy Hager & Family
Catharine Herb-Kelly & Peter Kelly
Paul & Darlene Howard
Carol Anne Humphrys & Nick Smith
Marvin & Irma Lamoureux
Lawson Lundell LLP
McCarthy Tétrault Foundation
Dennis & Kathy Meakin
Derral & Linda Moriyama
Morris Nord & Fiona MacDonald
Bonnie Mah
Ross H. Paul & Jane E. Brindley
Bill Millerd & Marsha Sibthorpe
POLYGON HOMES
Anne & Craig Rowland
The Vancouver Trolley Company
Douglas Welch & Elizabeth Ball
Anonymous x 2

DONORS

Baddeley Family
Peter Cathie White & Douglas Seifert
Mary Collins
Michele Collins
Jacqueline Kelly & Rowland McLeod
Eugen Klein & Ashley Smith
IBM Canada
Bryan Mabee & TerriLynn Ray
K. Beth Macdonald
Prof. Bernie Maroney
John & Yuko McCulloch
David Morton & Debbie Mogenson
Richard & Marcella Mulcaster
Donald & Elizabeth Paterson
Kostya & Audrey Polyakov
Valerie & Todd Prodanuk
Claire Sakaki & Jason Keel
Mark & Davida Stafford
Kerry & Scott Suffolk
John Sutherland & Jonalyn Siemens
Michael Walker
Faye Wightman
Anonymous