If you've seen Bard's production of Julius Caesar on the BMO Mainstage, you were probably intrigued by the atmospheric video designs that serve as decor, set pieces and information screens. Meet Video Designer Candelario Andrade, who designed and executed the video world of Julius Caesar!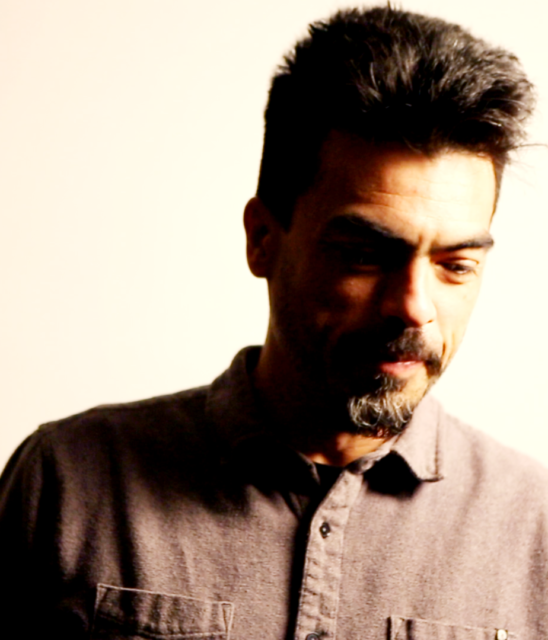 Tell us about yourself, and how you got into this line of work. 
I am a video editor and media designer who has worked with video and sound for over a decade. It all began in León, México, my birthplace and hometown.
After graduating from university in the late '90s, I delved into various fields, including radio, TV, comics and communications. During that time, I was also an active member of a local theatre company called San Banquito where I handled video and sound responsibilities. To make a long story short, in the mid-2000s, life and work brought me to Canada, where my focus shifted more towards video editing and media design in theatre and performance.
In Julius Caesar, the video really helps shape the narrative. How did you work with Cherissa and the other designers to determine how best to use the screens? 
Cherissa Richards, our Director, and Pam Johnson, our Set Designer, had come up with a clear vision of the screen placements and provided concepts that guided my research and content creation process. Cherissa's feedback from our subsequent meetings played a crucial role in shaping some of the content.
I like to approach the project with an initial interpretation of what I believe the show requires, based on discussions with the director. However, this interpretation evolves through feedback loops, which may involve observing rehearsals or engaging in dialogues with other team members and designers.
Once we had our first tech days on-site, further adjustments were inevitable. Seeing the set and lights and hearing the sound in its actual context allowed us to refine the content even more. The process involved constant tweaking, testing and finessing until the premiere.
 
How did you select the static art that appears in the scene with Cassius and Casca at Cassius' house? 
From early meetings it was clear we needed artworks in Cassius' house. Initially, I experimented with AI-generated art pieces, but they didn't fit the desired aesthetic.
During early tech days in-site, Cherissa wanted to see some real warrior-themed artworks. Inspired by her suggestion, I found two paintings that resonated: Judith Slaying Holofernes by Artemisia Gentileschi and Ophelia by John Everett Millais. I had always admired these artworks and had wanted to incorporate them into a design. The last of the artworks included was the Joan of Arc image.
This design is one of my favourites in the show. The way it utilizes the screens' brightness and the balanced colours create a beautiful visual, but on top of that, the composition subtly reflects an aspect of Cassius' character.
What are the best and worst things about incorporating video into a show in a tent? 
Artistically there is no best or worst to me as it depends on the project and usually one adjusts the work to the spaces, but this creates a technical challenge with video.
The LED screens "shine" light and produce really sharp imagery, and they don't have to fight the lights as badly as video projected on to the stage.
The challenges like computer memory, software compatibility, cables, signal distribution, etc. were less intense thanks to the amazing crew that works (hard) at Bard.
What else are you working on right now or soon? 
Right now I am working on two short films. One is in the process of colouring and the other one I am just about to start editing.
What's your favourite thing about Bard? 
That everyone that works in the organization is so supportive and everyone is there to help get the show ready. From day one it feels like home.
Any advice for aspiring video designers? 
Don't ever feel intimidated by "technology"! If you don't know how to make something, ask around or do some research.