We're sad that we can't present the Bard on our Festival stages this summer, but you can still look to digital spaces to find some great Shakespeare entertainment. We're ready to guide you to the best of it, from close to home and around the world, with our new feature: Bard's Guide to Shakespeare Online. It's a curated list of Shakespeare-related content you'll love – from live-streamed plays to podcasts and more – all in one convenient location.
For timely browsing, the events and performances that are happening soonest are at the top of the list. And be sure to check this space regularly, as we'll be updating the schedule with links to fresh content.
Tip: Keep an eye out for the option to set virtual reminders, to make sure you don't miss anything!
WHAT TO WATCH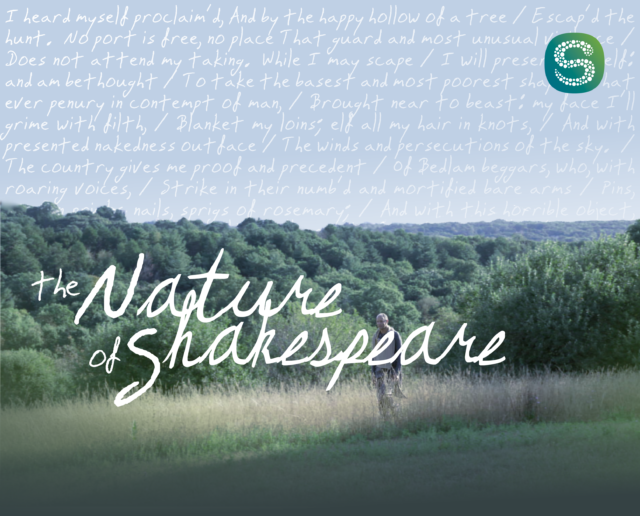 The Nature of Shakespeare 
Enjoy this unique event collaboration between the Arnold Arboretum of Harvard University and Actors' Shakespeare Project. It's free of charge and can be accessed via Zoom—just make sure to register online for both days beforehand! These episodes will also be recorded for future viewing.
ABOUT: In two distinct episodes, scenes and sonnets, that focus on the natural world, were captured on film in seven different Arboretum locations. Each episode will be live-streamed, with experts from the Arboretum talking about the specific natural area that is featured. Actors' Shakespeare Project staff and artists, alongside Arboretum experts, will engage together about how the language and environments speak to one another, culminating in a live Q&A with audience members.
WHAT: An exploration of Shakespeare, language and nature
WHEN: October 3 & 17 at 4:30pm PST
COST: FREE (with Zoom registration) 
---
Shakespeare's Globe 
The famous Globe has made a large collection of filmed productions available via Globe Player, their video-on-demand platform. To watch, sign up and rent a play from their library for approximately $8 CDN for 7 days.
---
Stratford Shakespeare Festival 
Our friends at Stratford in Ontario are HD streaming 12 Shakespeare plays for free on CBC Gem. All 12 plays are available for viewing anytime.
WHAT: Stratford Presents—The Taming of the Shrew, The Tempest, King Lear, Hamlet, Antony & Cleopatra, King John, The Adventures of Pericles, Macbeth, Love's Labour's Lost, Romeo & Juliet, Timon of Athens and Coriolanus.
WHEN: Anytime
COST: FREE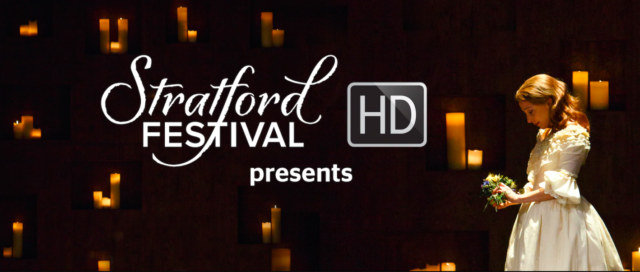 ---
Shakespeare Theatre Company
Enjoy this video compilation from STC's Virtual Gala featuring Shakespearean sonnets and monologues from around the world, in a host of different languages!
---
Public Broadcasting Service 
PBS has made a variety of Great Performances available online for free, including Rupert Goold's Macbeth starring Sir Patrick Stewart and Kate Fleetwood.
WHAT: Macbeth 
WHEN: Anytime
COST: FREE
Running time: 2 hrs and 38 mins
ABOUT: Following a London West End run in December 2007, a sold-out limited engagement at the Brooklyn Academy of Music in March 2008, and a subsequent eight-week run on Broadway, director Rupert Goold's gripping stage production of Shakepeare's Macbeth was filmed for television at the end of 2009. Patrick Stewart in his triumphant, Tony-nominated performance as the ambitious general, and Tony-nominated Kate Fleetwood as his coldly scheming wife. On March 31, 2011, this Macbeth production was the proud recipient of a George Foster Peabody Award.
---
BBC's Shakespeare Collection 
BritBox, the North American subscription streaming service devoted to British shows, just launched the full collection of BBC productions of Shakespeare's plays. It will be the first time all 37 adaptations will be available to stream in one place! A list of the complete collection can be found here.
WHAT: On-demand access to BBC's Shakespeare collection
WHEN: Anytime
COST: FREE with 7-day trial or $8.99 monthly
---
Commonwealth Shakespeare Company
Curious about exploring Hamlet in an immersive way? This adaptation casts the viewer as the Ghost of Hamlet's dead father using a 360-degree view. It's best enjoyed while using a Virtual Reality headset, but also viewable without one. The viewer can move around the set during the whole 60-minutes using the directional arrows or by clicking on and dragging the screen.
WHAT: Hamlet 360: Thy Father's Spirit 
WHEN: Anytime
COST: FREE
Running time: 60 minutes
---
Royal Shakespeare Company
The RSC has made various scenes from their plays available on YouTube. We recommend these for educational uses or for those that don't have time to watch a full play! All of the clips range from 1-5 minutes in length.
WHAT: Short clips from past productions
WHEN: Anytime
COST: FREE
---
Marquee TV 
You can access tons of top notch content from the Royal Shakespeare Company and Phyllida Lloyd's all-female, prison-set Shakespeare Trilogy featuring Julius Caesar, Henry IV and The Tempest, as recommended by Vancouver-based theatre critic Colin Thomas. Although this is a subscription service—there is a limited time offer for a 14-day free trial. It requires credit card information, so make sure to set a reminder to cancel before it charges you!  And if you do want to continue, the cost is $10.99 monthly – and you'll be supporting the RSC.
WHAT: On-demand access to critically acclaimed theatre performances
WHEN: Anytime
COST: FREE with 14-day trial or $10.99 monthly
---
The Show Must Go Online
This online project was created by actor-writer-filmmaker Robert Myles in less than a week in response to COVID-19, as a source of comfort for those in hardship and isolation. You can either tune in for the live streams every Wednesday or watch recordings anytime after. Our very own Front of House Manager and YSW alumni Matthew Rhodes played Chiron in Titus Andronicus and Swing in The Merry Wives of Windsor.
WHAT: Weekly live readings of the Complete Plays of Shakespeare by a global cast, including professionals and amateurs, presented in the order they are believed to have been written.
WHEN: LIVE Wednesdays at 11am PST or watch recordings anytime
COST: FREE

---
Sofa Shakespeare
Watch actors and fans perform Shakespeare from their living rooms—each performing a one-minute segment to complete a whole play! We love these videos because they show everyone getting creative from the confinements of home.
WHAT: Romeo and Juliet, Twelfth Night, Titus Andronicus, A Midsummer Night's Dream & Henry V, Macbeth, Much Ado About Nothing 
WHEN: Pre-recordings can be watched anytime
COST: FREE
UP NEXT:
---
A Sonnet A Day
Actor Patrick Stewart is posting #ASonnetADay to his Twitter account and the videos are rather soothing! We love that he sometimes includes bits of personal commentary and history with the sonnet.
WHAT: Sonnet readings from actor Patrick Stewart
WHEN: Everyday
COST: FREE
---
ACTIVITIES

Explore at Home 
Bard Education has created this collection of activities just for you! Discover more about Shakespeare's plays, characters, and language and have fun while making them your own.
HOW TO EXPLORE AT HOME:
1. Click here or on the image above
2. Enter the code: fh4omn2
3. Share with us on social! @bardonthebeach #bard2020
Note: Use your Google account to access the Explore at Home resources. Don't have one? Don't worry it's free and easy to set up. Questions? Please email workshops@bardonthebeach.org
---
Illustrated Shakespeare Colouring Book
Have a printer at home? This free Victorian colouring book by Michael John Goodman is perfect for both kids and adults! It features images taken from The Plays of William Shakespeare.
WHAT: Shakespeare colouring book
COST: FREE
---
Who Said It: Edward Cullen Or William Shakespeare?
This BuzzFeed quiz will test your knowledge in a fun way—you must guess if the line was spoken by popular romance fantasy Twilight's Edward Cullen or Shakespeare.
---
9 Virtual Tours of Shakespearean Spots
Virtually visit iconic places from Shakespeare's life and locations that are believed to have inspired him, via Google Arts and Culture.
WHAT: Virtual tour
COST: FREE
---
The Shakespeare App 
This app was featured in the New York Times and offers play texts, poems and sonnets, with additional study materials and breakdowns. It's available in both a free version and a paid version which has more features. A great tool for those studying Shakespeare or simply wanting to have easy access to his works.
WHAT: Educational Shakespeare app
COST: FREE or $9.99 for the pro version
---
READ

Hamnet by Maggie O'Farrell
A historical fiction that reimagines the death of Shakespeare's son Hamnet and the repercussions it had on the family and playwright. Maggie O'Farrell won the 2020 Women's Prize for Fiction for this book. In Canada, it goes by the title of Hamnet and Judith.
COST: $36.19 (hardcover) $13.99 (Kindle)
---
Folger Shakespeare Library 
Did you know that the full texts of Shakespeare's plays, sonnets, and poems are available for free from the Folger Shakespeare Library? Pssst – if you don't want to read alone, then check out the Shakespeare 2020 Project below.
WHAT: Shakespeare's plays, sonnets and poems
COST: FREE
---

Shakespeare 2020 Project 
Check out the Shakespeare Reading challenge started by Ian Doescher—author of the William Shakespeare's Star Wars trilogy series (we sell these books in our Bard boutique!). He set a personal challenge to read the entire Folger's Shakespeare Library editions of the plays and poems, and invites anyone interested to join in! We love this project because they are also posting photos, videos, artwork, and discussions about Shakespeare in 2020.
WHAT: Shakespeare reading challenge
WHEN: See full schedule here
COST: FREE
---
LISTEN
Lend Me Your Ears
ABOUT: In this podcast miniseries (8-episodes), host Isaac Butler explores how Shakespeare's works have shaped our modern views on politics and how Shakespeare was responding to his current events.
---
Heavenly Shows and Unnecessary Letters Podcast

"There are 835,997 words in the plays of Shakespeare. Heavenly Shows and Unnecessary Letters is a podcast where two theatre nerds watch productions of all 39 Shakespeare plays, and have a chat about the challenges and successes in adapting the work for modern stage and screen. If you're a fan of Shakespeare, or theatre, or just like to listen to people challenge their stamina for consuming iambic pentameter, this podcast is for you."
WHEN: A new episode is released every two weeks
---

WHAT: Recorded reading of Richard II
WHEN: Anytime
COST: FREE
Running time: Approximately 1 hour per episode. 
ABOUT: Brought to you in a serialized radio broadcast over four nights, listen as the last of the divinely anointed monarchs descends and loses it all. When King Richard banishes his cousin Henry Bolingbroke and deprives him of his inheritance, he unwittingly creates an enemy who will ultimately force him from the throne. One of the Bard's only dramas entirely in verse, this epic and intimate play presents the rise of the house of Lancaster through a riveting tale of lost sovereignty, political intrigue, and psychological complexity.
---
Shakespeare Unlimited Podcast
In the Folger's Shakespeare Unlimited podcast, Shakespeare opens a window into topics ranging from the American West, to the real history of Elizabethan street fighting, to interviews with Shakespearean stars. There are no limits to the discussions of Shakespeare, his works and their connection to our world.

---
Shakespeare Sessions 
This BBC Radio 3 podcast is your one-stop shop for all things Shakespeare. It's updated occasionally and available to listen to anytime.
WHAT: Shakespeare podcast
COST: FREE
---
Amazon Audible 
Currently Amazon Audible is offering a selection of free audio books of Literary Classics including Romeo & Juliet, The Tempest and Paradise Lost. There is no signup required—simply head to the link, select your book and start listening!
---
Have any great Shakespeare resources or content that you'd like to share with us? Tell us in the comments!
---