We're ready to guide you to the best of Shakespeare entertainment online, from close to home and around the world, with Bard's Guide to Shakespeare Online. It's a curated list of Shakespeare-related content you'll love – from live-streamed plays to podcasts and more – all in one convenient location.
For timely browsing, the events and performances that are happening soonest are at the top of the list. And be sure to check this space regularly, as we'll be updating the schedule with links to fresh content.
WHAT TO WATCH

Royal Shakespeare Company 
You can now watch a number of past productions from the Royal Shakespeare Company on the streaming service BroadwayHD. Currently, there are nine productions available with more to come soon! If you don't want to pay for a subscription, you can try their one-month free trial!
WHAT: Antony and Cleopatra, Hamlet, King Lear, Love's Labour's Won or Much Ado About Nothing, Macbeth, Measure for Measure, The Merry Wives of Windsor, The Two Gentlemen of Verona &Timon of Athens. 
WHEN: Anytime
COST: $8.99 USD/month (or try a one-month free subscription!)
---
Shakespeare Theatre Company
"Patrick Page explores how Shakespeare created the treacherous characters we all love to hate. This mesmerizing one-man performance is available online only, and STC subscribers will have the exclusive opportunity to talk directly with Patrick in a special live, post-show conversation."
WHAT: All the Devils Are Here: How Shakespeare Invented the Villain
WHEN: Available online starting February 4  (Note: the streaming link is available for 72 hours after purchase.)
COST: $25 USD
Run time: Approx. 80 mins
---
Shakespeare's Globe 
The famous Globe has made a large collection of filmed productions available via Globe Player, their video-on-demand platform. To watch, sign up and rent a play from their library for approximately $8 CDN for 7 days.
---
Stratford Shakespeare Festival 
Our friends at Stratford in Ontario are HD streaming 12 Shakespeare plays for free on CBC Gem. All 12 plays are available for viewing anytime.
WHAT: Stratford Presents—The Taming of the Shrew, The Tempest, King Lear, Hamlet, Antony & Cleopatra, King John, The Adventures of Pericles, Macbeth, Love's Labour's Lost, Romeo & Juliet, Timon of Athens and Coriolanus.
WHEN: Anytime
COST: FREE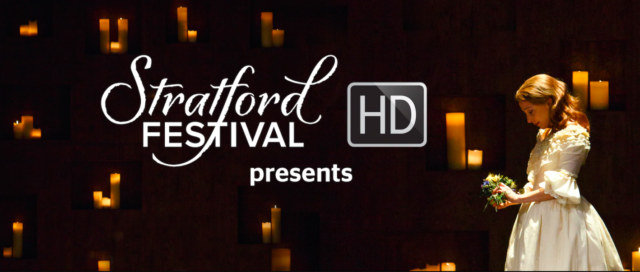 ---
BBC's Shakespeare Collection 
BritBox, the North American subscription streaming service devoted to British shows, just launched the full collection of BBC productions of Shakespeare's plays. It will be the first time all 37 adaptations will be available to stream in one place! A list of the complete collection can be found here.
WHAT: On-demand access to BBC's Shakespeare collection
WHEN: Anytime
COST: FREE with 7-day trial or $8.99 monthly
---
Marquee TV 
You can access tons of top notch content from the Royal Shakespeare Company and Phyllida Lloyd's all-female, prison-set Shakespeare Trilogy featuring Julius Caesar, Henry IV and The Tempest, as recommended by Vancouver-based theatre critic Colin Thomas. Although this is a subscription service—there is a limited time offer for a 14-day free trial. It requires credit card information, so make sure to set a reminder to cancel before it charges you!  And if you do want to continue, the cost is $10.99 monthly – and you'll be supporting the RSC.
WHAT: On-demand access to critically acclaimed theatre performances
WHEN: Anytime
COST: FREE with 14-day trial or $10.99 monthly
---
The Show Must Go Online
This online project was created by actor-writer-filmmaker Robert Myles in less than a week in response to COVID-19, as a source of comfort for those in hardship and isolation. Recorded live and available for viewing anytime.
WHAT: Readings of the Complete Plays of Shakespeare by a global cast, including professionals and amateurs, presented in the order they are believed to have been written.
WHEN: Anytime
COST: FREE

---
ACTIVITIES

Explore at Home 
Bard Education has created this collection of activities just for you! Discover more about Shakespeare's plays, characters, and language and have fun while making them your own.
HOW TO EXPLORE AT HOME:
1. Click here or on the image above
2. Enter the code: fh4omn2
3. Share with us on social! @bardonthebeach 
Note: Use your Google account to access the Explore at Home resources. Don't have one? Don't worry it's free and easy to set up. Questions? Please email workshops@bardonthebeach.org
---
Illustrated Shakespeare Colouring Book
Have a printer at home? This free Victorian colouring book by Michael John Goodman is perfect for both kids and adults! It features images taken from The Plays of William Shakespeare.
WHAT: Shakespeare colouring book
COST: FREE
---
Who Said It: Edward Cullen Or William Shakespeare?
This BuzzFeed quiz will test your knowledge in a fun way—you must guess if the line was spoken by popular romance fantasy Twilight's Edward Cullen or Shakespeare.
---
9 Virtual Tours of Shakespearean Spots
Virtually visit iconic places from Shakespeare's life and locations that are believed to have inspired him, via Google Arts and Culture.
WHAT: Virtual tour
COST: FREE
---
The Shakespeare App 
This app was featured in the New York Times and offers play texts, poems and sonnets, with additional study materials and breakdowns. It's available in both a free version and a paid version which has more features. A great tool for those studying Shakespeare or simply wanting to have easy access to his works.
WHAT: Educational Shakespeare app
COST: FREE or $9.99 for the pro version
---
READ

Hamnet by Maggie O'Farrell
A historical fiction that reimagines the death of Shakespeare's son Hamnet and the repercussions it had on the family and playwright. Maggie O'Farrell won the 2020 Women's Prize for Fiction for this book. In Canada, it goes by the title of Hamnet and Judith.
COST: $36.19 (hardcover) $13.99 (Kindle)
---
Folger Shakespeare Library 
Did you know that the full texts of Shakespeare's plays, sonnets, and poems are available for free from the Folger Shakespeare Library?
WHAT: Shakespeare's plays, sonnets and poems
COST: FREE
---
LISTEN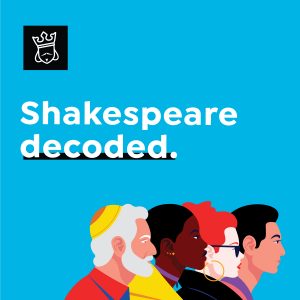 Shakespeare Decoded
Shakespeare Dallas has launched a monthly audio series called Shakespeare Decoded, of which the first two episodes are available now. The podcast explores the social issues of William Shakespeare's day that remain burning issues in today's global society.
Each episode features panelists from across the United States sharing their expertise on themes such as class division, racism, gender, and bias.
Lend Me Your Ears
ABOUT: In this podcast miniseries (8-episodes), host Isaac Butler explores how Shakespeare's works have shaped our modern views on politics and how Shakespeare was responding to his current events.
---
Heavenly Shows and Unnecessary Letters Podcast

"There are 835,997 words in the plays of Shakespeare. Heavenly Shows and Unnecessary Letters is a podcast where two theatre nerds watch productions of all 39 Shakespeare plays, and have a chat about the challenges and successes in adapting the work for modern stage and screen. If you're a fan of Shakespeare, or theatre, or just like to listen to people challenge their stamina for consuming iambic pentameter, this podcast is for you."
WHEN: A new episode is released every two weeks
---

WHAT: Recorded reading of Richard II
WHEN: Anytime
COST: FREE
Running time: Approximately 1 hour per episode. 
ABOUT: Brought to you in a serialized radio broadcast over four nights, listen as the last of the divinely anointed monarchs descends and loses it all. When King Richard banishes his cousin Henry Bolingbroke and deprives him of his inheritance, he unwittingly creates an enemy who will ultimately force him from the throne. One of the Bard's only dramas entirely in verse, this epic and intimate play presents the rise of the house of Lancaster through a riveting tale of lost sovereignty, political intrigue, and psychological complexity.
---
Shakespeare Unlimited Podcast
In the Folger's Shakespeare Unlimited podcast, Shakespeare opens a window into topics ranging from the American West, to the real history of Elizabethan street fighting, to interviews with Shakespearean stars. There are no limits to the discussions of Shakespeare, his works and their connection to our world.

---
Shakespeare Sessions 
This BBC Radio 3 podcast is your one-stop shop for all things Shakespeare. It's updated occasionally and available to listen to anytime.
WHAT: Shakespeare podcast
COST: FREE
---
Have any great Shakespeare resources or content that you'd like to share with us? Tell us in the comments!