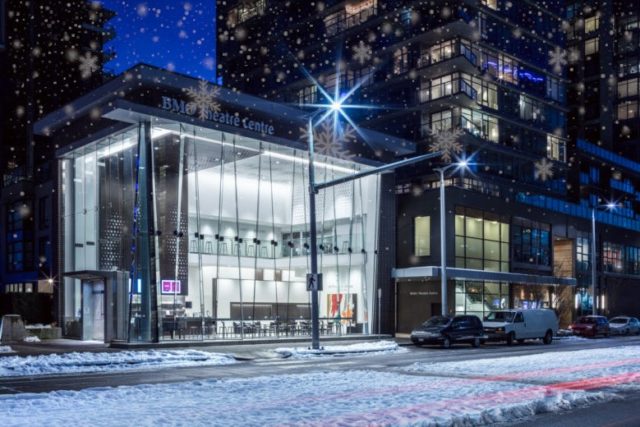 With the holidays coming up, we decided to get into the spirit and find out what our team members, including Artistic Director Christopher Gaze, will be doing while the office is closed between December 25 and January 1!
Plus, enjoy a recording of Christopher reading Charles Dickens' A Christmas Carol. Read on…
---
"Over the holidays I will be singing lots of Christmas music all across Vancouver with a carol quartet and with my church gig. I also plan on knitting lots, baking even more, spending time with my family and doing some geocaching, both in Vancouver and in Ontario when we go to visit family." – Cathleen, Sponsorship & Events Officer

"I will be spending the time off over the holidays mostly in the kitchen – baking my famous (only to my family) sugar cookies, making green bean casserole and cooking a 25 lb. turkey!" – Claire Sakaki, Executive Director

"I am hoping for the snow to start falling on Grouse so that by Saturday December 21st I will be skiing all day and drinking hot drinks all evening.  Then I'll shop madly for a couple of days, spend Christmas day with Family and visit with as many friends as possible into the New Year.  After that (thanks to saving Air Miles for 22 years) it's off to NYC with my wife and daughter for 6 nights in Manhattan seeing as much life and live theatre as possible before coming back and digging into preparations for Bard's 2020 Season!" – Jonathan, Production Manager

"I will be vacationing in South Korea, specifically Seoul and Busan, with my friend. It will be the first time I have gone back after living there from 2014-2015, so I'm excited to see the changes that have happened in 4-5 years!" – Jocelyn, Box Office Supervisor
"I'm flying back to Penticton, my hometown, to spend the holidays with my family and friends. This grinch's heart grows three sizes when I experience Christmas through the eyes of my two nieces and nephew. I'm also very excited to meet my brother's brand new baby girl!" – Stacey, Operations Manager 

"I will be spending my holidays up at Mount Washington Alpine Resort in Courtenay with my husband. Our parents are all out of the country for the holidays, so we're alone for our first married Christmas! We can't wait to be relaxing in the snow." – Maya, Digital Marketing Manager

"For the holidays, I will be heading home to Ontario to spend time with my family in the snow! One of my favourite traditions is going to the Dutch Mill Country Market for fresh apple dumplings (they're the BEST). I'll also be spending lots of quality time with my beloved dog Jackson – an oversized Sheltie." – Kristin, Marketing Coordinator 

"Jennifer and I are having a quiet Christmas this year…although we have an amazing addition to our family in the shape of a dog…a yellow Lab that started out as a BC Guide dog for nine months…and then we adopted him – so he's superbly trained. Mason is his name…or as we have come to know him…Mason the Magnificent! My sister Sarah and my Mother Joy will join us on Christmas Day for dinner. Jennifer and I will ski in Whistler over the New Year with our friends, John and Yuko McCulloch. John is the Chair of the Bard Board. For the rest of the time we shall visit with our children and grandchildren – we shall walk, talk, rest, relax, and watch The Crown, etc!" – Christopher Gaze, Artistic Director
Listen to Christopher's rendition of Charles Dickens' A Christmas Carol featured on CKNW.