Just over a year ago, our Bard team began an exciting new project to reimagine our visual identity, to be a new and eye-catching reflection of what Bard truly is today.
Artistic Director Christopher Gaze explains: "We started by appreciating that we are successful, and that our "look" has been recognized and admired for years by our many fans and followers. But then we asked ourselves a challenging question: is that "look" sparking curiosity and excitement beyond our immediate circle, to those who are not really aware of what we do in Vanier Park every summer and beyond? Does it fully convey what Bard is today – a modern, vibrant, professional theatre presenter and educator?"
And so we began a journey of exploration. We held wide-ranging conversations with our own followers and friends and we commissioned professional market research, to get feedback from those who know us well as well as those who don't. It ultimately led us to a new partnership with the award-winning Vancouver graphic design and branding firm, Carter Hales Design Lab. The result of all this is a fresh and original new look for Bard, and now we're ready to pull back the curtain and show it off to you!
The New Logo 

We're very excited about our new Bard logo (or brandmark – the technical term). From the first moment we saw it, we loved the inspired pairing of the silhouette of a tent – the heart of our Festival – with the single word people so often use to describe us: we are simply "Bard".
The Season Look
Lindsey Angell & Nadeem Phillip, As You Like It and Moya O'Connell & Ben Carlson, Macbeth. Photos by David Cooper
Carter Hales turned to our dramatic early-season play photography, as its team designed our upcoming season's print materials and website home page. They created a look that artfully positions photos from our upcoming productions As You Like It and Macbeth within the Bard tent 'frame'. The idea is to virtually transport you through the doors of our tents and into our theatres, where we bring you Shakespeare's great comedies, romances and tragedies – and more!
The Education Sub-Brand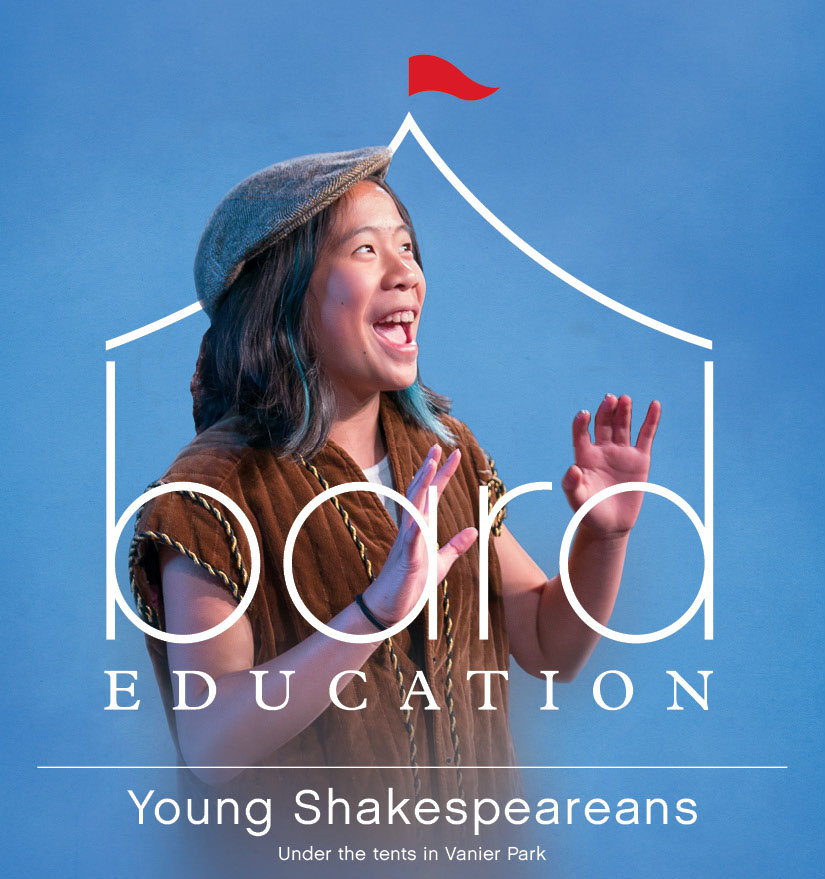 Bard Education designs and programs a wide range of learning experiences and materials for youth, schools and the general public along with specialized training for theatre professionals. This sub-version of the new look, with its modified logo, allows Education to reflect its own brand with its unique year-round programs and activities, while clearly linking it to the Festival and the Bard organization as a whole.
Coming soon: What you see here is just the beginning – there's so much more to unveil and celebrate. Keep watching our online spaces and print materials in the weeks and months to come, to see the entire scope of our fresh look as it rolls out into our 29th season and beyond!
---
Guest post by Heather Kennedy, Bard's Marketing & Communications Director