This year's production of Timon of Athens was unique in its set design and its costume demands. Timon (Colleen Wheeler) literally dug her own grave and destroyed the Howard Family Stage with her own two hands in every performance! (with a little help from theatre magic).
We spoke with our Production Manager, Jonathan Ryder, and Amy McDougall, Head of Wardrobe, to uncover the challenges of this production and reveal to you how they made it all work!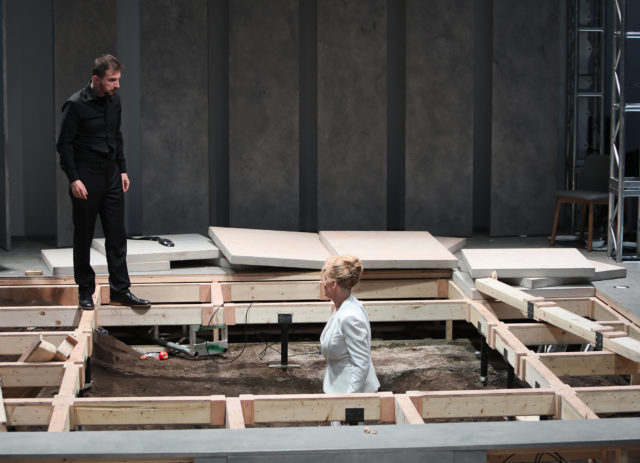 THE SET
Q: Jonathan, what was the biggest challenge in creating the set for Timon of Athens?
A: To be able to make a stage that could be torn apart, be safe, and be put back together without taking too long. That was the main structural challenge.
Q: How did your team end up making it?
A: We used 3x3ft stress skin panels –– which have thin plywood on the top surface and foam taking up the middle – so what you get is something that looks heavier than it is but light enough for the actor to throw around.
Our Director, Meg Roe, wanted Timon to dig a hole in the dirt underneath the stage — so we needed permission to work in the park in that way. We also had to prepare for an actor working in the dirt and had to sift through the ground below the stage to make sure that there wasn't any dangerous debris.
Q: How did Colleen prepare for tearing up the stage?
A: She dragged a big beam around during rehearsal and practiced lots of different ways of tossing the parts off the stage. She worked with Meg to build a physical language of ways she could work with the set. We even had a physiotherapist watch her tear the stage apart to ensure her safety and check what her exercise regime was.
Q: What was the reaction from the audience?
A: The audience was challenged to feel a little bit afraid, but was never put in danger.
Q: Final thoughts?
A: I was happy when the season was over and that it had all gone well. Although everything was safe, it was a challenge to make sure that the pieces would last all summer because she really tossed them around!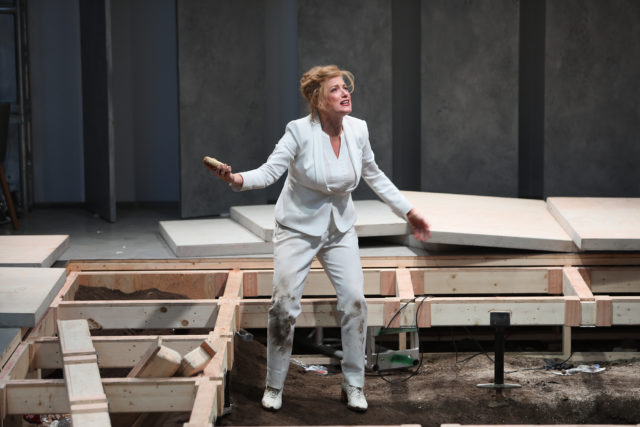 THE COSTUMES
Q: Amy, what was the biggest challenge for the Costume Department in this show?
A: I think the biggest challenge was the fact that we needed a clean white suit for 60-plus shows – but the suit would become covered in dirt during every performance! After some conversations, what we landed on was having eight suits — so one for every show in any given week plus a couple of extras and they would all go to the dry cleaner weekly. Luckily when our cleaner first saw the very dirty suit, her first words were "I'm going to have fun!"
Q: When did you learn about the concept for Timon's costume?
A: The very first conversation that I had with Mara Gottler, our Costume Designer and Meg Roe, our Director, was about this white suit and how important it was to the story that Meg wanted to tell. She wanted to see this pristine, expensive, composed image and wanted to see that fall apart.
Q: Can you tell us how the suit was made?
A: The suit was actually purchased and it was made of synthetic fibres, which was really important because it would be the easiest to clean and would last the longest over the course of the season. When we're doing contemporary shows we tend to purchase most of the costumes and tailor them because the cost of building a modern tailored garment is really high compared to the cost of buying it; we specialize in building period garments.
Q: How did you keep Timon's shoes so clean?
A: There were two pairs of shoes and Jeff, who is one of our backstage wardrobe staff, would take the shoes and wash and re-polish them every day after Colleen came off stage. We wanted a high-heeled power look, but it needed to be something that wasn't going to endanger her because the footing was going to be very insecure. We ended up with a lace-up Oxford heel which worked very well. I mean, Colleen's a champ, so she was able to rip apart that stage and walk up and down piles of dirt in heels!
Q: Final thoughts?
A: I think the most frequently asked question from our patrons was how we kept it so white the whole season. A patron even jokingly said "Tide should sponsor you!"
---
Director: Meg Roe | Set Designer: Drew Facey | Costume Designer: Mara Gottler | Lighting Designer: John Webber | Choreographer: Amanda Testini | Fight Director: Josh Reynolds